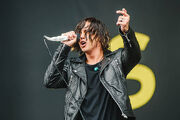 Kellin Quinn Bostwick, now known as Kellin Quinn, (born April 24th, 1986, age 27) is the lead vocalist for the post-hardcore / punk band Sleeping With Sirens. Kellin lives in Medford, Oregon.
Kellin is currently married to Katelynne and has a daughter, whose name is Copeland.
He has been in a few bands before Sleeping With Sirens (closer 2 closure & for all we know). 
He is also a hero who saves lives every single day with his awesome music and amazing personality